Student of the Month / Native Speaker Discount
So our students may gain confidence and enjoy speaking in English
In order to provide an environment where students may confidently learn to enjoy speaking English, Knock Knock Preschool has enacted the following scholarship systems.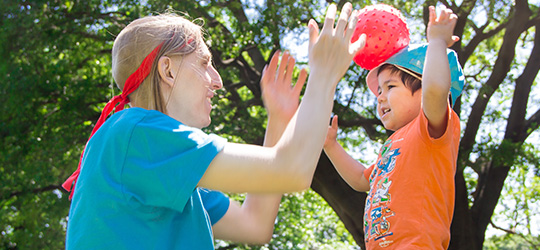 Every month we commend a student who has worked very hard. This student is called the "Student of the Month". Based on a student's age and improvement, foreign instructors and support staff will decide upon the Student of the Month. A student may not be selected for two consecutive months.
Selection Standard
Always speaking English
Contributing to the English environment and encouraging friends to speak English.
Partaking in class positively and learning voluntarily and curiously.
Listening to teachers and following class rules.
Working well with teachers and friends.
Caring for friends and working as a team. Having leadership if needed.
Showing improvement of English.
| | |
| --- | --- |
| Eligibility | Regular / Full course students |
| Number of Students | Only 1 student is selected to be the Student of the Month per month |
| Discounts | ¥10,000 discount from the next payment of tuition (one time) |
For students that have one or both native English speaker parents, have a high English speaking ability, and are determined to have a positive impact on classmates, we offer a Native Speaker Student discount at our school.
Selection Standard
He/she communicates with his/her family in English at home and can communicate with our English speaking native teachers without any problem.
One parent is from an English speaking country and is a native English speaker.
His/her English speaking ability is a good influence on his/her classmates.
He/she has been enrolled for more than one month.
| | |
| --- | --- |
| Eligibility | Regular / Full course students |
| Discounts | 30% discount on program fees |
| Discount Cancellation | We may cancel the discount if your children do not meet the conditions. (Excluding teaching materials and extension fees, etc.) |
Contact Us?
Before enrollment, free trials, interviews, and tours of the facility are available. First, please apply for a free trial.