Spend Spring Vacation in English with Spring Tickets 2024
SPRING
TICKETS
March 1st to 25th, 2024
Special Spring Ticket Sales
During our spring ticket sales period, we offer special discounted tickets that may be used to participate in Preschool programs.
This is a special spring ticket for those who would like to try the English preschool experience or want their children to come into contact with lots of English during spring vacation.
Non-attending students may use this chance to be exposed to a great amount of English at our preschool over spring break. Current students may use our spring tickets to participate on additional days at a discount!
Registration fees are not required for both current students and non-attending children. Instead, all children may participate with tickets.
We offer benefits for our current students. (Free extension system)
Duration :

March 1st to 25th, 2024

Audience:

Current students
Non-attending children

For:

Age 2 ~(Non-attending children:Age 3 ~

*1

)

Sign-up:

Day-by-day

*2
School:

For use on:

All preschool classes

Transportation:

Fees:

See below
1.

For non-attending children only: Participation is possible from the age of three. Please contact us if your student has not been toilet trained. (Students who will join us in term 1 may participate if they are two years old.)

2.

Non-attending children: Regular programs may be joined only when making three or more reservations.
Non-attending children:No registration fee, facility fees, or teaching material fees are required. (Children may participate using only our Spring tickets.)
Spring Ticket Pricing
Currently Enrolled
/ Term 1 Students
Non-Attending
Children
Price for One Ticket

¥1,500

/ea.

¥2,300

/ea.
Students who will join us in Term 1 (starting from April 2024) may participate at the same rate as current students.
Tickets per Day for Regular Program Participation
The required number of tickets and total pricing for each program is listed below.
Required Tickets


/Day

Currently Enrolled
/ Term 1 Students
Non-Attending
Children

Regular




(9:30-14:00)

4 Tickets

¥6,000
¥9,200
Extension


(14:00-15:30)

2 Tickets

¥3,000
¥4,600

After Kinder




(15:30-18:00)

2 Tickets

¥3,000
¥4,600

Full Day




(9:30-18:00)

8 Tickets

¥12,000
¥18,400
The above prices are the total fees for one day. (Number of tickets requiredx ticket fees.)
Benefits for current students (Free extension)
Students who attend our Regular or After Kinder courses may use spring tickets for extensions. Additionally, if tickets are used to purchase a full course, these students may participate in extensions with no additional charge.
Example: A student who regularly attends our After Kinder course on Monday purchases an additional Monday Regular course with spring tickets. This student then may participate in the extension for no additional fees.
Participation Using Spring Tickets
About Spring Tickets
Spring Tickets allow students to participate in our Preschool programs at Knock Knock Preschool.
When making new reservations, Spring tickets may be purchased for use during the eligibility period. Please be aware that we do not offer refunds for purchased tickets.
■ How to Apply
Reservations can be made 30 days prior to the desired date of participation.
Please apply by phone(03-5799-9924)or via e-mail (info@knockknockenglish.com)
■ Payment
After receiving your invoice, please pay in cash or via bank transfer.
■ Cancellation
NO REFUND/SCHEDULING anytime AFTER 5PM on the DAY BEFORE class.
Anytime before 5pm on the day before class, students are able to reschedule.
To reschedule, please CANCEL the class FIRST and then BOOK a NEW desired class.
■ Reservation Changes
Reservations cannot be changed after 17:00 on the business day prior to the scheduled participation date.
If you still wish to change the reservation date or program, please cancel your current reservation and apply again.
About Participation in Regular Program
Current students may use transfer tickets, trial tickets and additional tickets to participate in regular programs.
Must be at least 3 years old and have trained for toilets to attend courses. (Except for current Knock Knock Preschool students)
Students need to reserve minimum of 3 classes. (Except for current Knock Knock Preschool students)
Students need to bring lunch for regular courses. Delivery lunch services are available for ¥550 per lunch only if the students have no food allergies. Please contact our main office by 5:00pm on the day before at the latest tp utilize this service.
Students that will join in Term 1 (starting from April 2024) may participate at the same rate as current students.
We offer a free shuttle service from our Chitosefunabashi school to our Seijo school. (Reservation required.)
If you would like to request transportation from your home to our school, please contact us in advance. Please be advised that we may not be able to offer transport based on area or scheduling issues.
Knock Knock Events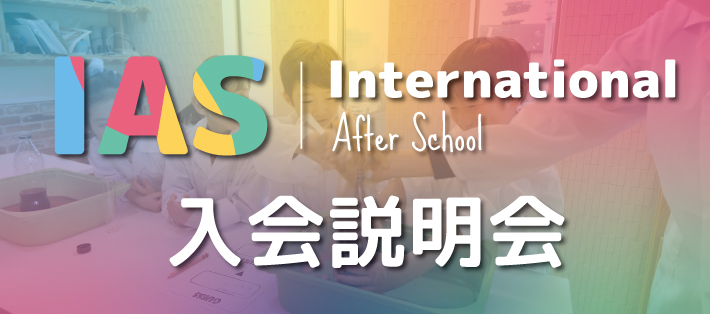 Apply Now
IAS (International After School) Orientation
Date: 2023/10/3 (Tue), 2023/10/17 (Tue) 
Become a Host Family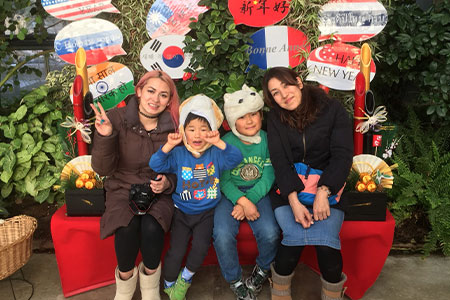 Apply Now!
Become a Host Family
At Knock Knock, we encourage students to come into contact with foreign cultures and languages.
Contact Us?
Before enrollment, free trials, interviews, and tours of the facility are available. First, please apply for a free trial.