We recommend our staff positions to those who wish to use learned English, to work in an overseas-related job, and aim to improve practical English ability.
Knock Knock is recruiting staff to work at our schools. Our schools are English environments, and we are looking for people who are motivated and driven, and wish to use learned English or improve their English ability. (We also have an English proficiency allowance and in-house English training system.)
Current Recruitment - Open Positions/Departments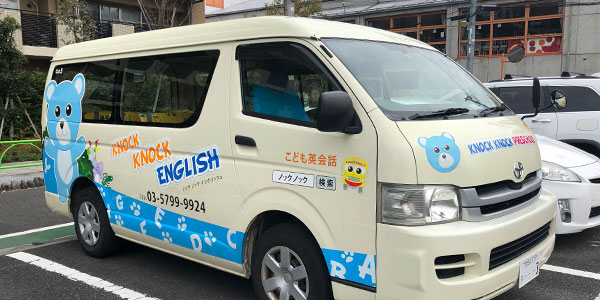 5-14人乗りの普通車を運転して生徒の送り迎えを行っていただきます。曜日により走行ルートが決まっています。車は2種類(エスクワイア、ハイエース)
備考:
子供が好きな方歓迎、英語力は問いません。履歴書をスクールまで郵送ください。
1週間以内にスクールよりご連絡差し上げます。
形態

パートタイム

---

労働日数

月~金
週1~5日(相談)

---

時間帯

(1) 7:40-10:00
(2) 13:00-19:00(応相談)

---

給与

時給1,200円~1,400円

---

勤務地

千歳船橋校・成城校

---

試用期間

1ヶ月(試用期間中は1,050円)

---

必要資格

要 普通運転免許証

---

手当
Contact Us?
Before enrollment, free trials, interviews, and tours of the facility are available. First, please apply for a free trial.